Experienced
Rest assured, after 30 years in the industry ~ we can pretty much guarantee we have a whole boatload of experience! Besides, we absolutely love what we do.

Knowledgeable
If you don't believe us, just ask. Our team has an in-depth understanding of all aspects of water features. We're talking some deep (really deep) knowledge.

Reputable
No kidding… without a good reputation, we wouldn't have been able to build all the fabulous water features that we have throughout Central California. Our rep is stellar!
A Few Words About Nimb(US)
---
Imagine… Sketch… Dig… Do a bunch of other stuff… then add water (well it's not that easy, but your get the picture)
---
Ten years prior to the turn of the second millennium, Mark Hansen joined his father, John Hansen, in business at Nimbus Landscaping Materials of Rancho Cordova. Mark has grown up with his dad's enthusiasm for Koi and helping customers build backyard ponds. John's knowledge is extensive and his enthusiasm contagious. Mark enjoyed learning and working side by side with his father.
Through this relationship, Mark realized he had a passion of his own. So with profound perseverance — Mark developed Nimbus Pond, Inc as a compliment to Nimbus Landscaping Materials. Mark thrives on creating natural looking ponds and beautiful water features. He loves everything from designing a pond that fits naturally into the landscape to building commercial water features that have all the bells and whistles. Mark's mechanical, chemical, and hydraulic know-how has made Nimbus Pond, Inc the go-to authority that has yet to be matched locally. With a combined experience base of over 30 years, Nimbus Pond, Incorporated is THE Company trusted for your water feature design, construction and maintenance.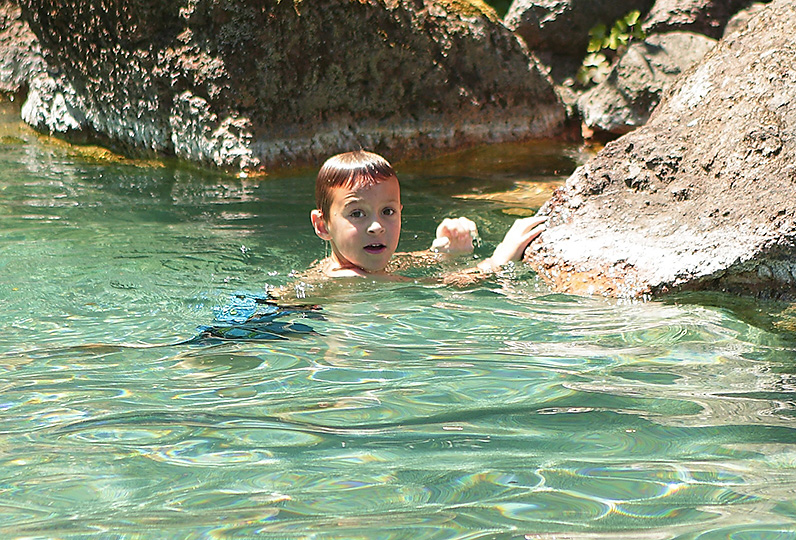 Who knows what the next generation will bring to Nimbus Pond, Inc, but as we look to the future it seems quite promising that Jack will have his own take on the business. At present, it seems to involve pond inspection from the waters point of view, but only time will tell!
---
Contact us @ 916.852.1606
---